CISRS OSTS Scaffolding Supervisor
*1. Target Group
This course is aimed at those who are responsible for the supervision, direction and instruction of scaffolding operations e.g. Charge hands, Foreman,
Supervisors, Contract Supervisors and Management.
*2. Delegate Pre-requisites
To be able to attend this course, delegates require extensive scaffolding industry experience and should ideally hold a CISRS Scaffolder Level 3 or 4
qualifications or a CV clearly stating delegate's extensive scaffolding industry experience. Employers will be responsible for ensuring that delegates meet
this requirement.
*3. Physical and Stressful Demands
Training and/or assessment activities contained within this Standard may include physically demanding and potentially stressful elements. All personnel
who participate in such activities must be physically and mentally capable of participating fully.
Therefore to ensure that prior to participating in practical exercises, the delegates will be required to undergo medical screening by completing appropriate
medical screening form provided by QISC
*4. Aims and Objectives
To give the delegates such knowledge and skills to enable them to supervise, monitor, direct and instruct Scaffolders in scaffolding operations.
*5. Learning Outcomes / Assessment Criteria
1. Legal Overview (Local Regulation for the country or region)
2. Performance Standards
3. Communication Skills (including Task Briefings & Toolbox Talks)
4. Supervisory Skills
5. Design Appreciation
6. Theory Tests
7. Practical Exercises
 Toolbox Talks
 Risk Assessment Project
 Method Statement
 Client Brief
*6. Delegate Performance Assessment / Certification / Validity
Delegate Performance Assessment:
Written Tests – A minimum of 25 multiple choice questions. Pass Mark is 80%.
Practical Assessments – These assessments are made by the Instructor during normal practical exercises and skill tests.
Certification: Successful delegates will receive a CISRS Overseas Scaffolding Supervisor Certificate of Training and Record Card valid for 5 years.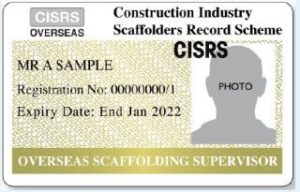 *7. Instructor & Delegate Ratio
The maximum permitted number of delegates per Instructor is 12
*8. Duration and Timing
3 Days
*9. Venue
Qatar International Safety Centre
Gate No. 9 building – 23 Street – 45
Salwa Industrial Area
Doha Qatar
PO Box 23651
*10. For more information
Please contact us direct for availability & costs:
Email: training@madinagulf.com
Tel: +974 4450 1223
Fax: +974 4450 1220
www.qisc.net / www.madinagulf.com