SPANSET HS SHARK Rescue Training Module 5b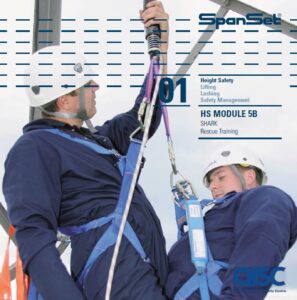 DURATION
3.5 hours 1/2 Day
RATIO OF TRAINERS TO TRAINEES
1 Trainer to 6 Trainees
PRE-COURSE INSTRUCTIONS AND ENTRY
REQUIREMENTS
– Candidates must be competent in the use of their Personal Fall Protection Equipment
– SpanSet Height Safety Module 1 as a minimum (1 Day duration for modules 1 and 5B)
– SpanSet Height Safety Module 3 is advised for candidates with no previous experience of work at height with personal fall protection equipment
– All delegates must be able to certify that they are physically fit and have no medical conditions that might prevent them working at height. (A list of conditions
that could affect practical training and work at height are available on request.)
– SpanSet reserves the right to exclude unsuitable delegates from training courses.
– Delegates must be 18 years or over.
OVERVIEW
– This module is designed to make operatives fully conversant in the operation of the S.H.A.R.K. for both rescue and evacuation.
– The course will enable operatives to use the rescue kit to lower a casualty to ground level, or descend to a suspended casualty and perform an assisted
descent to ground level.
– This technique is normally employed on Towers, Masts and Structures where direct intervention by the rescuer is necessary.
– This module is intended for operatives who are already conversant in the use of their personal fall protection equipment.
– During training delegates will be expected to carry out activities at height. This will provide an insight into the delegates' ability to operate in such conditions.
This is only an indication of their capability, as it is not possible to recreate exact working environments.
– The actual height and exposure will be set out on the certification, but this is only to show what was included in the training. The height shown on the
certification is not intended to limit the height at which the delegate can operate.
– Further details of the training facilities, first aid provision, insurance, etc are available upon written request.
COURSE SYLLABUS
Theory
– Understand the implications of being suspended in a harness and the importance of rescue provision when working at height.
– A basic understanding of the different approaches to rescue and how the rescue kit fits into a hierarchy of options, e.g. improvised planned and emergency
services.
– Understanding the importance of personal safety whilst carrying out rescue.
– The importance of casualty management and the application of temporary aids.
– Post rescue care and handover to a first aider or the emergency services.
Practical
– Correctly fitting and adjustment of a fall arrest harness.
– Correct use of double and/or single fall arrest lanyards for personal safety whilst traversing and rescuing.
– Identification of the key components for the rescue kit and their strengths and limitations.
– The ability to assess the situation and select the appropriate recovery technique, i.e. anchor point selection and suitable points of safety harness attachment.
– All delegates will be fully conversant with an appropriate rescue system.
– This will normally include:
– The use of a self-locking descender to abseil.
– How to free the casualty from suspension with the minimum exposure to risk.
– The use of a rescue kit containing a self-locking descender to access a casualty and evacuate them down to safety.
ASSESSMENT METHODS
Details of other assessment methods
– During the course of the day the candidates will be continually verbally assessed by the trainer using working examples and scenarios to determine the
delegates understanding of a specific topic.
– In addition to the test carried out in module 1 all delegates will be monitored by the trainer throughout the practical sessions. Any concerns will be addressed
by delegate and trainer on a continual basis.
– The rescue will be carried out in stages and if at any point the trainer is unhappy with the standard attained then the delegate will be unable to continue.
If the matter is resolved then the delegate may re-join the course.
EQUIPMENT COVERED DURING TRAINING
– Full Body Harnesses
– Double Fall Arrest Lanyards
– Gotcha Suspension Loop
– SpanSet High Access Rescue Kit – SHARK
FEEDBACK TO CLIENT AFTER COURSE
– Photo ID card for all delegates, valid for three years.
– Certificate for all delegates, valid for three years.
RECORDS TO BE MAINTAINED BY SPANSET
– Course registration sheet, including results of the assessment.
– Digital photo for duplicate issue of ID cards.
– Course feedback forms where completed.
COURSE JOINING
INSTRUCTIONS
Unless otherwise stated, all courses are held at QISC Doha, Qatar and will assemble at 0800hrs daily unless otherwise agreed. Delegates should report
to the main training reception upon arrival.
EQUIPMENT & CLOTHING
All equipment required throughout the course will be provided by QISC/SpanSet Ltd.
Candidates should provide their own comfortable clothing and footwear, with provision made for inclement weather conditions, i.e. fleeces, waterproofs,
windproof, etc.
FOOD & REFRESHMENT
Refreshments will be provided throughout the day on all courses.
A lunch will be provided on all courses of a day or more in duration held at SpanSet.
ACCOMMODATION
Details of local accommodation on request.