SPANSET HS Competent Person Practical Inspection and Record Keeping Module 7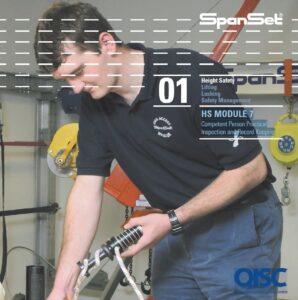 DURATION
3 hours / 1/2 Day
RATIO OF TRAINERS TO TRAINEES
1 Trainer to 10 Trainees
PRE-COURSE INSTRUCTIONS AND ENTRY
REQUIREMENTS
– SpanSet Module 1 (1 Day duration for modules 1 and 7).
– No Previous Experience Required
OVERVIEW
This module is designed as an enhancement to Module 1 giving greater detail on the inspection of height safety equipment.
– The course is intended for those employees who are required to carry out thorough examination of harnesses and lanyards as a nominated competent
person.
– The delegate will have an insight into the design, testing and manufacturing processes, as well as practical activities involving inspection and testing of
damaged equipment.
– Further details of the training facilities, first aid provision, insurance, etc are available upon written request.
COURSE SYLLABUS
Theory
– Understand the importance of trace-ability for all height safety equipment
– Understand the information required to complete inspection records
– Understand the effects of continual degradation of equipment and when it must be withdrawn from service
– Understand the importance of correct quarantine and disposal procedures
– Understand the processes for investigating the effects of contaminants and the details required for returning them to service.
– Understand the design and testing procedures for height safety equipment
Practical
– Be able to inspect / thoroughly examine harnesses and lanyards for signs of continual degradation and fatal flaws
– Be able to record the findings of their inspections / examination
ASSESSMENT METHODS
Details of written assessments
Throughout the course the delegates will have completed a logging system for a range of equipment, this will be assessed by the trainer and SpanSet will
retain this as an example for our records.
Details of other assessment methods
During the course of the day the candidates will be continually verbally assessed by the trainer using working examples and scenarios to determine the
delegates understanding of a specific topic. In addition to the test carried out in module 1 all delegates will be monitored by the trainer throughout the
practical sessions. Any concerns will be addressed by delegate and trainer on a continual basis.
The trainer will use practical tasks to assess the delegates competence and understanding.
EQUIPMENT COVERED DURING TRAINING
– Example equipment that has been exposed to continual degradation, including harnesses and lanyards.
– Example harness web samples that has fatal flaws
– Design / Production test samples
FEEDBACK TO CLIENT AFTER COURSE
– Photo ID card for all delegates, valid for three years.
– Certificate for all delegates, valid for three years.
RECORDS TO BE MAINTAINED BY SPANSET
– Course registration sheet, including results of the assessment.
– Digital photo for duplicate issue of ID cards.
– Course feedback forms where completed.
COURSE JOINING
INSTRUCTIONS
Unless otherwise stated, all courses are held at QISC Doha, Qatar and will assemble at 0800hrs daily unless otherwise agreed. Delegates should report
to the main training reception upon arrival.
EQUIPMENT & CLOTHING
All equipment required throughout the course will be provided by QISC/SpanSet Ltd. Candidates should provide their own comfortable clothing and footwear,
with provision made for inclement weather conditions, i.e. fleeces, waterproofs, windproof, etc.
FOOD & REFRESHMENT
Refreshments will be provided throughout the day on all courses.
A lunch will be provided on all courses of a day or more in duration held at SpanSet.
ACCOMMODATION
Details of local accommodation on request