SPANSET HS Management of Work at Height Module 9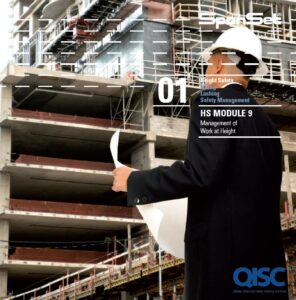 DURATION
5 hours / 1/2 Day
RATIO OF TRAINERS TO TRAINEES
1 Trainer to 10 Trainees
PRE-COURSE INSTRUCTIONS AND ENTRY
REQUIREMENTS
– All delegates to be registered on the course registration form.
– All delegates to be advised of the following
– Fire procedure
– Toilets and welfare
OVERVIEW
The course is designed to provide;
– An outline of the Requirements for Planning, Organising and Supervising work at heights.
– Options on how to comply within the Hierachy.
– A background in types of equipment that can be utilised to achieve this.
– The details behind the equipment standards to ensure usage within the intended purpose.
– The criteria for issue, ID marking, inspection, record keeping, maintenance, storage and withdrawal from service.
COURSE SYLLABUS
Theory
Legislation –
– The Work at Height Regulations 2005
– Hazard analysis and Risk assessment
– The Hierarchy of Measures
– Prevention versus Protection
– Collective Measures
– Personal Measures
– Work restraint (How to achieve it)
– Work position (What to look for)
– Roped Access (Requirements)
– Fall Arrest (Where/when to use it)
– Planning for rescue provision
– Certificates of conformity and trace-ability
– Inspection and record keeping procedures
– Limitations of use and when to retire from service
– Strengths and characteristics of equipment
Practical
– Identification of Hazards related to work at height
– The correct selection of prevention/ protection within the Hierachy
– Identification of different styles of rescue equipment using samples
ASSESSMENT METHODS
Details of written assessments
All candidates will carry out a written test. This will take the form of planning a simple task to be performed at height and detailing the procedures to be
followed prior to the works being carried out.
The trainer will explore the candidates' knowledge of the topic and examine preset key points to establish the candidate's score.
FEEDBACK TO CLIENT AFTER COURSE
– Photo ID card for all candidates, valid for three years.
– Certificate for all candidates, valid for three years.
RECORDS TO BE MAINTAINED BY SPANSET
– Course registration sheet, including results of the assessment.
– Digital photo for duplicate issue of ID cards.
– Course feedback forms where completed.
COURSE JOINING
INSTRUCTIONS
Unless otherwise stated, all courses are held at QISC Doha, Qatar and will assemble at 0800hrs daily unless otherwise agreed. Delegates should report
to the main training reception upon arrival.
EQUIPMENT & CLOTHING
All equipment required throughout the course will be provided by QISC/SpanSet Ltd.
Candidates should provide their own comfortable clothing and footwear, with provision made for inclement weather conditions, i.e. fleeces, waterproofs,
windproof, etc.
FOOD & REFRESHMENT
Refreshments will be provided throughout the day on all courses.
A lunch will be provided on all courses of a day or more in duration held at SpanSet.
ACCOMMODATION
Details of local accommodation on request.