SPANSET HS Radio Frequency Awareness, Safety in Radio Frequency Fields Module 8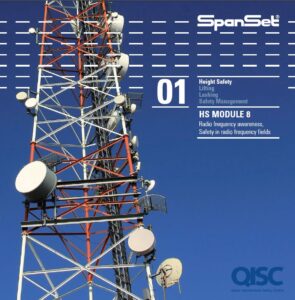 DURATION
3 hours / 1/2 Day
RATIO OF TRAINERS TO TRAINEES
1 Trainer to 6 Trainees
PRE-COURSE INSTRUCTIONS AND ENTRY
REQUIREMENTS
– No Previous Experience Required
OVERVIEW
– This module is a theory based course intended for those who need to work near, or in radio frequency radiation fields.
– The course syllabus is approved by National Grid Wireless, as part of the qualifications required to access there sites.
– Further details of the training facilities, first aid provision, insurance, etc are available upon written request.
COURSE SYLLABUS
Theory
– How electromagnetic fields are generated.
– The potential effects of over exposure on the human body.
– Sources of electromagnetic fields.
– The requirements of the forthcoming EMF directive.
– Overview of monitors and dosimeter.
– The national register of RF workers
ASSESSMENT METHODS
Details of written assessments
All candidates will carry out a multiple-choice test covering the key point of the course. If a candidate gets a total score of less than 80% then the trainer
will explore the candidates' knowledge of the topic. Where the candidate has a good understanding of the topic the result may be amended.
Details of other assessment methods
During the course of the day the candidates will be continually verbally assessed by the trainer using working examples and scenarios to determine the
candidates understanding of a specific topic.
FEEDBACK TO CLIENT AFTER COURSE
– Photo ID card for all candidates, valid for three years.
– Certificate for all candidates, valid for three years.
RECORDS TO BE MAINTAINED BY SPANSET
– Course registration sheet, including results of the assessment.
– Digital photo for duplicate issue of ID cards.
– Course feedback forms where completed.
COURSE JOINING
INSTRUCTIONS
Unless otherwise stated, all courses are held at QISC Doha, Qatar and will assemble at 0800hrs daily unless otherwise agreed. Delegates should report
to the main training reception upon arrival.
EQUIPMENT & CLOTHING
All equipment required throughout the course will be provided by QISC/SpanSet Ltd.
Candidates should provide their own comfortable clothing and footwear, with provision made for inclement weather conditions, i.e. fleeces, waterproofs,
windproof, etc.
FOOD & REFRESHMENT
Refreshments will be provided throughout the day on all courses.
A lunch will be provided on all courses of a day or more in duration held at SpanSet.
ACCOMMODATION
Details of local accommodation on request